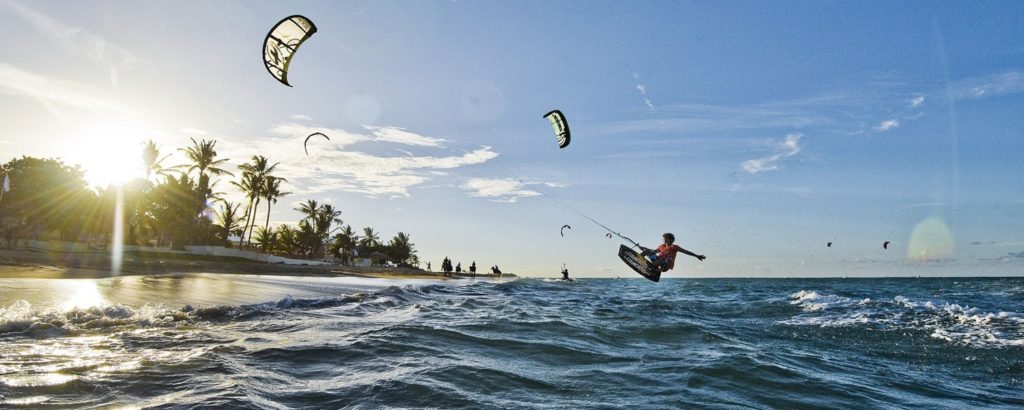 Skip to:
• Cabarete: a water sports mecca!
• Just how windy is Cabarete?
• When should you come for kiteboarding?
• Learning to kiteboard in Cabarete?
• Surfing at Encuentro Beach!

Cabarete: a water sports mecca!
A short walk along any Cabarete beachfront seems synonymous with a kite-filled sky and boards cutting through the waves. Less than 35 years ago, however, the beautiful North Coast of the Dominican Republic had not yet been introduced to the water sports world. As difficult as this is to believe, it is easy to understand why Cabarete is today seen as a water sports mecca: its perfect conditions.
Known for a winning combination of cross onshore trade winds, waves on the reef and weak tidal currents, Cabarete has become a home away from home for many of the world's surfers, windsurfers and most of all, kiters. Here, we provide a brief guide to the famous, windy conditions of Cabarete, and where to get started if you're new to kiteboarding!

Just how windy is Cabarete?
It is due to the combined effort of trade winds, coral reefs and nearby mountains that Cabarete is subject to a unique thermal effect. The end result of these factors is often more than 300 days a year of strong, easterly winds, giving kiters consistent side-onshore wind direction.
Everyday like clockwork, the winds and waves start to come to life around midday, usually reaching their strongest between 4-5pm.

When should you come for kiteboarding?
As seen above, the conditions in this region are famed for their year-round consistency. That said, however, there are slight variations in the wind and waves throughout the year and generally, there are two times of year considered to be the best for kiting: January-March and June-August.
Winter (January-March):
The average wind speed in the Winter usually ranges between 14-24 knots, but this time of year also brings storm and wave swells. So, if you've already had some experience kiting, or you just fancy cutting through the waves, this is the time of year for you!
Summer (June-August):
As the summer months roll in, the winds pick-up a little, bringing the average speed to around 16-30 knots. However, these months also bring flatter, calmer waters due to less wave swells, providing the perfect conditions for newcomers to the sport.
As with all things natural, these conditions can differ year on year. Here are some useful links to check up to date forecasts and statistics before your trip:
Learning to kiteboard in Cabarete?
Never stepped foot on a kiteboard before? Fear not, as the Cabarete beachfront is lined with a multitude of kite schools for people of all levels. Most schools will offer packages for different durations to suit your stay, including equipment rental. Some of the crowd favourites are:
LEK (Laurel Eastman Kiteboarding)
Surfing at Encuentro Beach!
Wind sports aren't for everyone, but luckily, Cabarete also provides for surfers of all levels. Just a five-minute drive, taxi or guagua north-west of Cabarete, Encuentro Beach is undeniably the surf spot capital of the Dominican Republic. The beach boasts year-round surf-friendly waves, which tend to reach their highest between January-March. Showcasing five different breaks, Encuentro has something for everyone, whether you're a seasoned surfer or an absolute beginner.
For budding surfers, Encuentro Beach features numerous surf schools, all of which offer boards to rent for around 15 USD per day.
Water sports just not for you? Check out our post below for other great things to do on Cabarete Beach:
Dominican Republic Beach Guide: Cabarete Beach
What's your favourite time of year for water sports in Cabarete? Let us know by leaving a comment below!